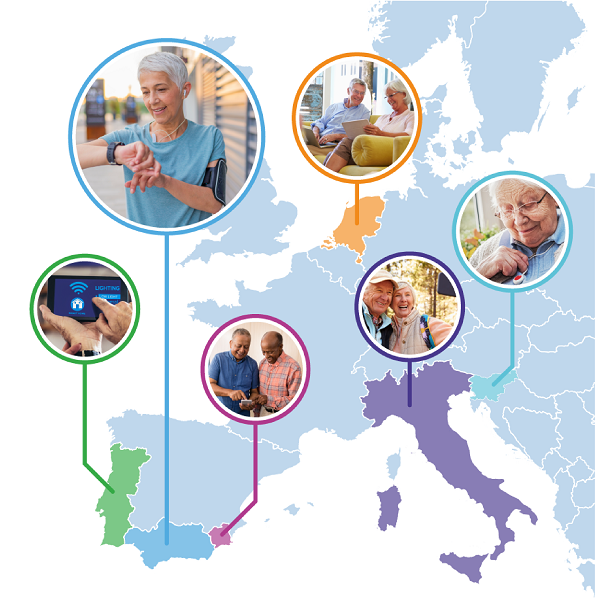 Click on the the map or choose from the list below to get directly to the pilot of interest:
Andalusia (Spain) – click here
Pilot Andalusia (Spain)

Contact person:
Ana Perandrés-Gómez (click here to send her an email)
Location:
Andalusia, Spain
Short description:
Andalusia is the most populous autonomous community in Spain with more than 8 million inhabitants. 62.2% of its area is classified as rural where mostly older people live. Specifically, the population over 65 is almost a million and a half (1,440,102), putting it second among Spanish autonomous communities with the largest number of older adults.
Due to its sociodemographic characteristics, it is estimated that 42% of older adults in Andalusia are living alone, and the percentage of people feeling alone in the vast rural areas may be even higher. Loneliness takes its toll on the physical and mental health of people that suffer from it.
However, any problem can be made into a challenge to be addressed. In this regard, the general objective of the Andalusian Pilot is to reduce social isolation and loneliness by enhancing autonomy and promoting social cohesion through connectivity and digital tools.
Services offered:
The Andalusian pilot focuses on 3 services:
Service 1
Eliminate the digital divide in older adults by training their digital skills. A B-learning platform will be implemented to transfer and improve basic abilities (web searching, audio & video, maps & navigation, user tips & FAQs etc.), that enable further development in digital environments.
Pharaon technologies: To be determined
Service 2
Stimulate social participation and avoid isolation in the community through an online social network. This network allows in an intuitive and match-based way meetings and staying in touch among people with common interests ("Smart TV" to create bonds of friendship) and also the chance to schedule and manage events among the network users. A section to keep the users informed about the public or community institutions agenda (and sign up to these events) will be introduced.
Pharaon technologies: To be determined
Service 3
Stimulate active living at home through gamification and cognitive stimulation apps. Thereby collected data will be used to create a neuropsychological profile and predict future impairment in older adults.
Pharaon technologies: To be determined
Pilot Italy
Contact person:
Laura Fiorini (click here to send her an email)
Location:
Tuscany + Apulia, Italy
Short description:
In Italy Pharaon will focus on improving the quality of life at home for older vulnerable subjects or mild/moderately frail individuals. In doing so, the pilot will emphasize correct health management and monitoring at home.
One of the main issue of the Italian health-care and welfare system concerns with old people at risk of isolation and protection loss by public institutions. Faced with the challenges linked to socio-demographic changes (the growing of social-care and health care need of population) and the progressive lack of resources, the Italian public welfare system needs to find new solutions for improving the life of their older citizen.
The scenario of the Italian pilot site aims to offer older adults living alone at home a personalized and integrated care system.
In Tuscany the priorities will be the aspects of socialization and inclusion and the monitoring of living conditions.
In Puglia, particular attention will be given to physical and cognitive stimulation activities, as well as to multidimensional geriatric assessment.
Services offered:
The Pharaon Italian Pilot aims to: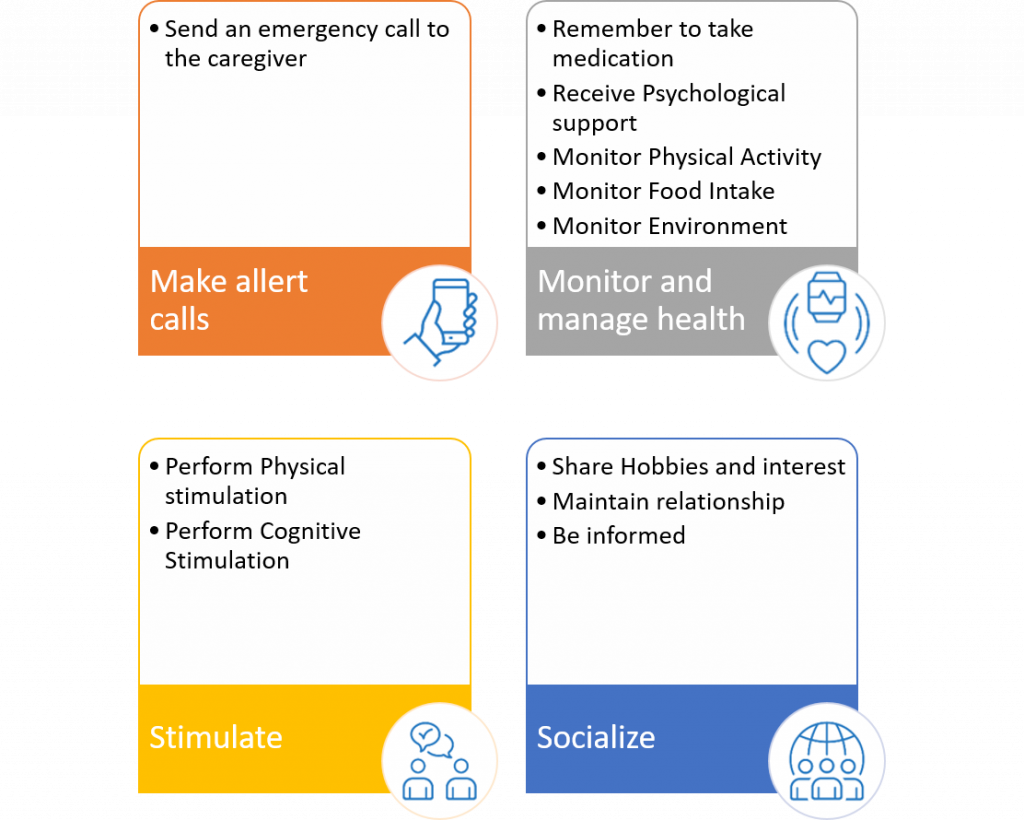 Pharaon technologies:
SENTAB system will be used mainly for the socialization application exploiting video conferences system and cognitive games; SENLAB's IoTool integrates environmental sensors and smartwatch to monitor the older adults status; RRD's eHealth Platform will provide OTAGO exercise for physical stimulation; ENT SmartHabits Platform will be used for data analysis and anomalies detection. DISCOVERY from ASCORA will provide web-based interfaces for caregivers and families.
Pilot Murcia (Spain)
Contact person:
Francisco Melero (click here to send him an email)
Location:
Region of Murcia, Spain
Short description:
With a population of 1.5M, the region of Murcia is currently the 7th most populated province in Spain, around 1/3 of the population is concentrated in the city of Murcia and its surrounds. Despite being the only Spanish community with more Young population (below 16 years old) than old population, 16% of the inhabitants of the region are 65 or above, and it is expected to grow progressively contributing to Spain being, by 2050, the 2nd oldest country on the planet after Japan. Its up to 150 days of sun per year and its average temperature of 18 degrees make the Region of Murcia a nice place for ageing for both those that were born in Murcia and those from other regions and countries.
The Murcia pilot will be focused on chronic patients over 65 years of age, who frequently require health care and to which we can typically offer only face-to-face and reactive assistance. This approach does not take the advantage of virtual resources available with current technology that could save many trips, medical emergency services, work absences the companion, etc. In addition, adding sensors both for the patient (e.g., wearables) and to their home would allow them stay in their preferred environment and establish a more intense, effective, proactive and at the same time less intrusive care and observation. This model of telecare could be extended to patients of any age in situations of vulnerability that may even be transient, such as living alone and suffering from a disabling problem at any given time
Services offered:
The Pilot in Murcia will deploy a new line of virtual attention for patients with Chronic Heart Failure that will be tele-assisted, proactive, preventive, and focused on the patient and their environment. It will develop two scenarios. Angel of Health and Care at home.
The Angel of Health aims at improving health and care services and follow up to patients with Chronic Heart Failure, that will allow to decrease older adult´s dependency and their involvement in the health and care process from the data perspective. Moreover, it will help to Help relieve health-care centres and their workers of workload pressure and Improve their reaction in emergency cases.
The objective of the care at home scenario will be to early detect emergency situations and to reduce the dependency of older adults.
Pharaon technologies used: The technologies to be used in both scenarios will be mainly the Onesait Healthcare Data Homecare from Indra, as a communication tool for tracking vital signs registering clinical information and setting alarms, and the MIW+ platform from MIWenergía, which connects individuals with their total energy consumption data at their homes. Onesait Healthcare Data Homecare platform will integrate other technologies from the Pharaon consortium and from other institutions funded under the open calls that will support and complement the Angel of Health and Care at home scenarios, like Amicare from CETEM, a non-intrusive monitoring technology for the safety of older adults, and the autonomous robot platform RB1-Base1 from Robotnik that will be used as a telepresence mobile robot for assisting patients and residents from institutional health and care facilities that need to be in isolation.
Pilot Netherlands
Contact person:
Femke Nijboer (click here to send her an email)
Location:
The Dutch pilot will be organized around a number of local NFE PlusBus initiatives that cater to older people in their community. There are over one hundred of these initiatives across the Netherlands (see map).
Short description:
The Dutch pilot aims to reduce loneliness and social exclusion of older adults ageing independently at home. Loneliness and social exclusion have a big impact on the wellbeing of older adults. These are major issues in today's individualistic society where families are smaller and the average distance between parents and children is greater. Many older adults become lonely when they lose their mobility and cannot move around freely anymore.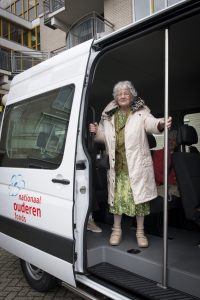 To reach out to older adults and reduce loneliness and social exclusion we will build on and enrich the services of the PlusBus of the National Foundation for the Elderly. This is a community transport service with over 100 busses across the Netherlands. It focusses on older adults who would like to have more social contacts and go out (more often). The PlusBus facilitates grocery shopping, but also cultural and social activities such as summer days at the beach and museum visits.
We will focus on two topics in particular: Community building and Happy, healthy aging. These topics will be closely connected to cater to the diverse needs of older adults. For example, we intend to match people based on their shared interest in healthy eating. We will offer both coaching and matchmaking and will use technology to support our services. Moreover, the autonomy of older adults will be a key element of our services. It is up to the older adults if and how they will use them, and we will involve older adults in the project from the start
Services offered:
We will create and offer older adults a set of integrated services that will be embedded in the existing PlusBus initiative. We plan to introduce our services to older adults through volunteers of the PlusBus. When older adults start using our services, they will first interact with a virtual agent that will redirect them to the services that are of interest to the older adults. These services include matchmaking and coaching; Older adults will be matched with each other and with activities, and will be offered coaching for adopting a healthy lifestyle. We plan to make the necessary devices available to the older adults through 'local libraries' where people can borrow these devices.
Together the offered services will contribute to community building and happy, healthy aging in older adults.
Pharaon technologies:
Pilot Portugal

Contact person:
Diana Guardad0 in Coimbra (click here to send her an email) + Adriano Fernandes in Amadora (click here to send him an email)
Location:
Coimbra + Amadora, Portugal
Short description: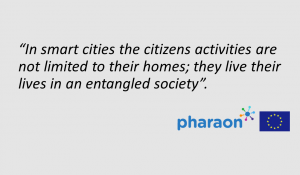 Pharaon's pilot in Portugal will mainly aim to connect Smart Cities with the ageing challenges, seeking to put Health and Social Care on the heart of the cities, emphasizing equity, wellbeing, social cohesion, collaboration and action to address some determinants of health improvement by enhancing the use of the city environments, as populations who do not have access to efficient resources and facilities in cities suffer most from localized environmental problems and unhealthy living conditions. To achieve these smart healthy age-friendly environments for ageing citizens, it is essential to address the possibilities of existing houses, public buildings, social and healthcare facilities, transportation facilities and outdoor spaces to turn into smart, responsive (to the user's needs), sustainable and healthy environments, that can allow users to improve their mobility and participation in society, their active and healthy ageing and their independent living.
Aiming at building an integrated approach, the Portuguese pilot will be involving users from the start on the design and development process: end users were consulted and partnerships at a local and regional level will be encouraged to improve knowledge exchange and shared guidelines and standards. The ultimate goal is to build on the city environment in order to promote older adults' autonomy and well-being, favouring the creation of an ecosystem of actors that will support the community cohesion around the frailest ones.
Services offered:
In the context of the Smart Cities and the Ageing Challenges, 4 main areas will be addressed in the deployment of the pilot:

Citizen Focused Solutions
Integrated Care and Planning
Integrated Infrastructures and Processes
Knowledge Sharing.
Such areas will be deployed in 3 layers: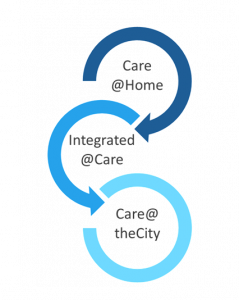 Care@Home
Integrated@Care
Care@theCity
Under those, 8 actions have been defined, with each pilot site in Portugal (Coimbra and Amadora) aiming to implement at least 6 of the 8 actions:
Care@Home
Ambient assisted Living. Pharaon technologies: To be determined
Proximity volunteering. Pharaon technologies: To be determined
Integrated@Care
Services on Demand. Pharaon technologies: To be determined
Telemonitoring of vital signs+ ADL. Pharaon technologies: To be determined
Care@theCity
Carers Campus: focused on formal and informal carers and self-management. Pharaon technologies: To be determined
Social incubator: Open facility/building in the community focused on the promotion of social cohesion. Pharaon technologies: To be determined
City audit tours: digital app that allows citizens to report what measures must be taken to assure that the infrastructures, signing, trails and equipment in the city are adequate to specific needs of different stakeholders and different ages. Pharaon technologies: To be determined
Together city and nature: digital app that will make leisure and cultural activities available for participation. Pharaon technologies: To be determined
Pilot Slovenia
Contact person:
Mike Burnard (click here to send him an email)
Location:
Izola, Ljubljana, Zagreb
Short description:
Pharaon's pilot in Slovenia will focus on improving well-being through passive monitoring using a variety of sensing devices like wearables, sensors imbedded in furniture, and environmental sensors. Ideally, this will improve professional carers ability to respond to the needs of residents and give health care providers more information about the residents in the pilot site. Combined, this can improve the peace-of-mind of residents and their family members. Currently, residents have call button which can be pressed in case of urgent issues but concerns about stigma may be an issue when using it for non-emergency cases. Passive monitoring can alert caretakers to situations before they become urgent and allow them to address situations that arise with the resident on-demand, rather than when an emergency button is pressed or when the situation is encountered on scheduled rounds.
The Slovenian pilot is hosted at Dom Upokojencev Izola (DUI, Retirement Home Izola) in the historic city centre of Izola, Slovenia. Izola is a small city on Slovenia's short coastline in the Obalno-kraška statistical region. Both the Italian and Croatian borders are nearby. The region has a temperate Mediterranean climate, with mild winters and warm summers, which occasionally brings high temperatures and relative humidity that can be a risk factors for older adults' health.
The pilot will also attempt to address the social isolation and loneliness experienced by residents by providing simple-to-use video calling and increasing awareness of and access to community events. Information about events in the community, especially an activity centre for older adults, should be presented directly to older adults with the capacity to allow them to RSVP, and potentially arrange transport. This will allow greater participation in the community, reduce isolation, and improve the overall community engagement.
Services offered:
Service 1:
Passive sensing devices that monitor physiological indicators of the residents directly (wearables, imbedded sensors) or monitor the environment (environmental sensors, imbedded sensors), should be installed in resident rooms. Caregivers should be alerted to pre-defined situations that require urgent interventions, or trends that could indicate issues. Longer-term data can be shared with doctors (with appropriate consent from the older adults) to inform care. Pharaon technologies: SmartHabits (ENT), InvisibleCare, IoChat, IoTool (Senlab), Amicare (CETEM), MOX wearable (MAIN), Wearables (CORO), Discovery (Ascora) we want to monitor older adults' activity, physiological indicators, and their environment. With that we would like to ensure that older adults will have care and attention when needed, to alleviate potential stigma of manually triggering an alarm in non-emergency and urgent situations, to monitor and optimize indoor conditions and enable caretaking staff to have more information about the resident's status.
Service 2:
When older adults move to retirement home, they can feel isolated and disengaged from their community. Identifying and participating in event outside of retirement home becomes difficult, as well as maintaining contact with those outside of the retirement home. Therefore, our goals are to increase social contact between residents and people outside of the retirement home, to simplify involvement with the community and to ensure a two-way flow of information and "on-demand" social contact for residents. To achieve this we will offer a system to easily browse events, register, and potentially arrange transit using a familiar system, like a television with remote. Additionally, a system that will allow video conferencing will be provided, which will enable older adults to communicate with their loved ones outside of the home. Pharaon technologies: IoChat, IoTool, SeniorsPhone, InvisibleCare (Senlab), Sentab system (SenTab).
Eventually, it would be useful to link Service 1 to the existing in house e-health monitoring system (NurseCare, by Eurotronik).