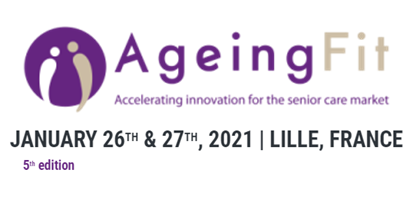 31 Oct

AgeingFit (25-28 January 2021, online)

Pharaon will participate in the 5th AgeingFit Conference taking place online on 25-28 January 2021. AgeingFit is the European event fostering innovation in the healthy ageing sector. Silver Health covers the fields of prevention allowing seniors to be autonomous and in « good health » as long as possible, and also the care of old and sick people staying in hospitals or geriatric homes.

Steered by an international Committee including Pharaon Coordinator Filippo Cavallo, BioRobotics Institute at the Scuola Superiore Sant' Anna, the Committee represents the diversity of the Silver Economy. The AgeingFit conference programme is designed to address the main issues of the healthy ageing and senior care sectors: From the overarching financial and regulatory challenges of the market to the latest innovations in connected health, nutrition and care.

The 2021 programme is organised around 5 tracks addressing the innovation challenges of the fast-paced longevity economy and markets:
Track 1: The European senior care market challenges
Track 2: Connected healthy ageing
Track 3: Innovative prevention through nutrition for healthy ageing
Track 4: Innovation in long-term care institutions
Track 5: Innovation for ageing well at home
Pharaon partner HPE will speak at Track 2 on the topic of "What's new in digital for chronic disease management".
When: 25-28 January 2021
Where: Online
More information about the conference can be found at the event website (click here)