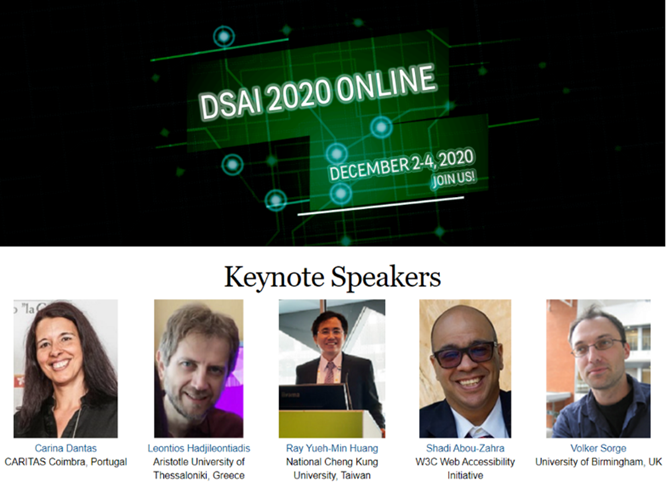 10 Dec

"Citizens should always be involved in the development of digital solutions from their conception" – Pharaon @ DSAI 2020

Pharaon Partner Carina Dantas was a keynote speaker at the DSAI 2020 online conference – the 9th International Conference on Software Development and Technologies for Enhancing Accessibility and Fighting Info-exclusion on 4 December 2020.

The Pharaon Ethics Chair presented "No excuses – keep investing in wellbeing and inclusion", highlighting Pharaon and why citizens should always be involved in the development of digital solutions from their conception, so technologies meet the users' real needs.

Carina Dantas addressed the main challenges brought by the COVID-19 pandemic, as well as the opportunities and consequences.  According to Carina Dantas, "the post-pandemic crisis can be an opportunity to rethink the need to invest in prevention, as well as on the well-being and quality of life".

In her presentation, she highlighted in which way digital services if correctly implemented, can respond to the challenges that the pandemic brought to the population: fight loneliness, the lack of family support, go around the closing of traditional services, the problem of hospitals' capacity or the fear of going to the General Practitioner.

Dantas also spoke about the big ethical challenge that will redefine the balance between digital tools and the human presence, reinforcing that "it will be needed a great sensitivity and a big social conscience to develop in the right direction and not lose the focus", considering that "all the political, economic and social measures, should have the end goal of individuals' well-being and promotion of the common good".

These principles guide the work in Pharaon and CDC's contribution in other European projects such as Net4Agefriendly, Valuecare, PlatformUptake, Diana, Dapas, Hands-on-SHAFE, Smartwork, EU_SHAFE and national projects such as ACTIVAS and CR55+.