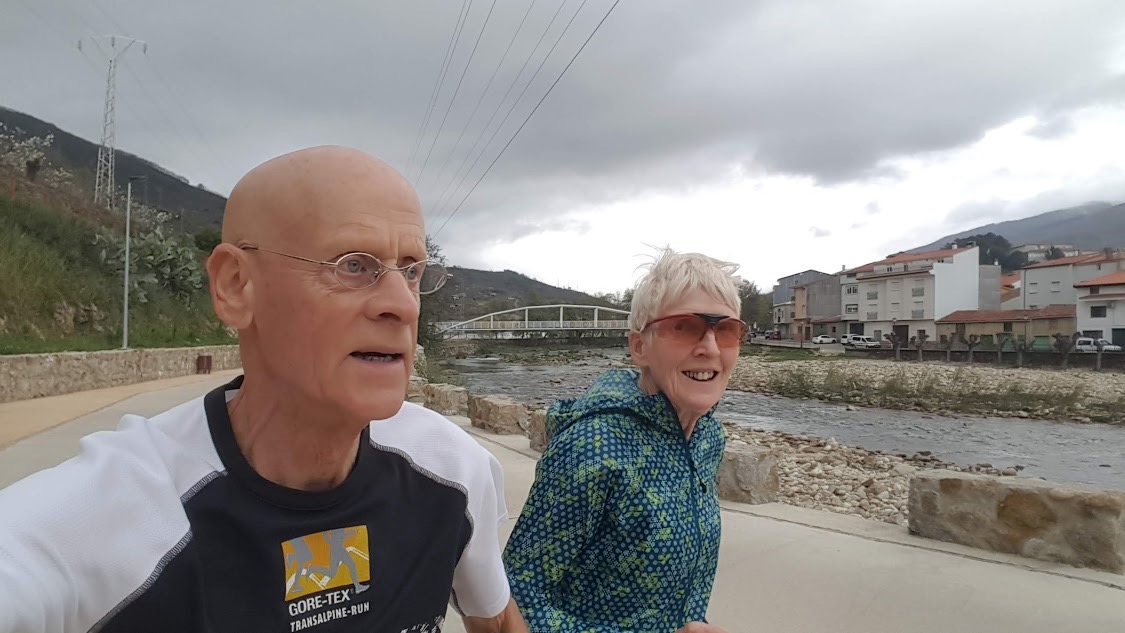 31 Mar

Greetings from our Dutch Pharaon pilot participants Ria and Ron from Spain

Ria and Ron van Weezep are two participants of the Dutch Pharaon pilot who both have been running for years – and with great success. They were interviewed over the phone by our Pharaon partner Femke Nijboer, University of Twente, while they were on their way to the sunny south in their camper van.

Femke: Before we talk about running…. I understand that you are traveling with the camper. Where are you now?

Ron: We are in Extremadura, which is close to Portugal and just below Madrid. We go on a trip for about eight weeks every year. This shortens the winter. We don't want to spend the whole winter in the south, but right now there's not much to do in the garden in the Netherlands. So we can leave it behind and travel.

Femke: Traveling together for so long. Let me ask you a personal question: Ron, what makes Ria a great travel partner? Why do you guys get along well.

Ron: We both exercise. Sports are an important part of the holiday. It is not often that partners like the same sport. We are very lucky with that. Incidentally, I had just been out for a few years due to knee osteoarthritis. Then Ria had to run alone.

Ria: Yes, that was a pity. Running together is more fun. I also train fanatically. I like to win.

Femke: Win?

Ria: Haha, well, an example: there was not yet a Dutch record for the marathon in my age category of people over 75 years old. So I set it in Amsterdam.

Femke: Marathons!?

Ria: Yes, full and half marathons. We run both of them.

Ron: I didn't run for four years because of the arthritis. I started again two years ago because I still hat the itch for it. I've changed some things. I now run more on the midfoot and have different shoes. Sometimes people advise against exercising if you have osteoarthritis, but since I train four times a week, my knees are doing remarkably well. If I do a lot, it seems to go better.

Femke: So it is possible?

Ron: Yes, you just have to listen to your body carefully.

Femke: Were you always so sporty? Even when you met?

Ria: We were about 37, 38 years old when we started doing sports. Then we moved within the Netherlands and we could do more at our new place. There was a swimming pool close to home and we joined the cycling club. During the winter we went running with that cycling club – that's how we got into running.

Ron: In 1984 I saw an episode about the "Ironman Triathlon" (3,8km swimming, 180km cycling, 42,2km running) in Almere in the Netherlands. At that time I only cycled and then I also started running and swimming. A year later I did the whole triathlon. Running was my best discipline and I continued with it. Then Ria started too. We also both became members of an athletics club.

Ria: And then you go to competitions… Nowadays we combine it with the camper. On one of our wedding anniversaries we wanted to go for a run somewhere. We tried to find out where in the world there would be a marathon that day and there was a half marathon in Florida. We went there and…. we both came first in our respective categories!

Femke: What a sporty and romantic date! I'm on the phone with real champions!

Ron: Well, right now I'm only doing 10km races.

Femke: Only 10 kilometers? I'm training for a 5 km run in Enschede. I can ask you for tips, haha. Why did you actually sign up for the Pharaon study, given that it's a study to improve lifestyle.

Ron: We don't need that, but it's a good initiative. People need to move more. Our participation may make it even better.

Femke: Do you know people who may need a little push?

Ron (hesitates): We are in the sports world. Our acquaintances are very sporty.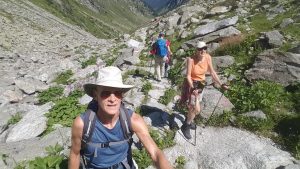 Ria: I notice while traveling that many people sit. They find a walk already quite cumbersome. They hang out a lot at the campsite.
Ron: People need to be supported to get active.
Ria: You have to enforce staying healthy by keeping on moving.
Ron: We are still members of an athletic club. With running you build up a basic fitness level. If you were to see our holiday album, you would also just see how much fun we are having. It's part of our life. When you exercise you also come into contact with all kinds of people. I do padel, boot camp, running. We can still do everything.
Femke: How old are you actually?
Ria: I am 75 and Ron is 76.
Ron: But according to my Garmin sports watch my fitness age is 20 years, haha!
Femke: And where will your journey go from here?
Ron: We never have a set route. The weather is our compass. We'll see what we can do. We are now in the valley of Jerte in Spain. It seems that soon the cherry trees will bloom very nicely here. We are waiting for that.
Femke: I wish you a very nice journey. Thanks for the interview.