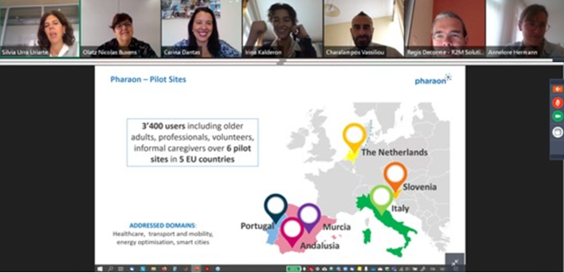 11 Nov

Pharaon discusses the implementation of Sustainable Places

Pharaon Coordinator Filippo Cavallo, BioRobotics Institute at Scuola Superiore Sant'Anna, Italy, and Cáritas Coimbra, represented by its Innovation Director, Carina Dantas participated in the Sustainable Housing Supporting Health and Well-being Workshop on the 4th day of the "Sustainable Places 2020" digital conference.

The workshop brought together a set of initiatives supported by the European Union, which are drawing up innovative solutions to support the development and investment in sustainable housing, thus, enhancing the health and well-being of EU's citizens.

Project representative from Pharaon, Homes4Life (H2020), TeNDER (H2020), SHAFE (Thematic Network), Hands-on-SHAFE (Erasmus+), NET4AGE-FRIENDLY (COST Action), AGE'IN (Interreg 2 seas) and SmartWork (H2020) presented their research and jointly discussed and evaluated the potential challenges they face.

Filippo Cavallo highlighted Pharaon as a diverse project with the ambition to cover 6 pilots, that touch different domains, such as healthcare, smart cities, mobility, transportation and energy – this overlap of synergies among domains is unique in the context of large scale pilots. The Pharaon Coordinator emphasized that Pharaon has already defined a set of use cases (=services that will be offered) based on a systematic co-creation methodology, executed also during the pandemic lockdown. The Covid emergency forced pilots to to explore their core missions i.e. the capacity to exploit technology to go directly to the need of users. Thanks to synergies with other initiatives, the Italian pilot was able to implement 4 use cases: 1) monitoring physiological parameter at home; 2) psychological assistance at home with tablet; 3) assistance at home with telepresence robot; 4) UVC-based disinfection robot solutions in hospitals. Lastly, the open calls for cascade funding anticipated for December were announced.

Carina Dantas presented "Smart, Healthy and Age-Friendly Environments – Policies and Implementation" and how the concept has been implemented in the Portuguese pilot of Pharaon, and also in several other ongoing international projects. The concept was created in 2017, fuelled by the desire to implement Smart, Healthy and Age-Friendly Environments across Europe, by promoting the link between health, social support, information technologies (ICT) and built environments.

Silvia Urra (TECNALIA) chaired the conference departing from the experience of the Homes4Life project, a European Coordination and Support Action that aims to create a certification system for smart homes. Further panel participants included Irina Kalderon-Libal, Policy Officer of DG CNECT – European Commission and Charalampos Vassilio, Smartwork.