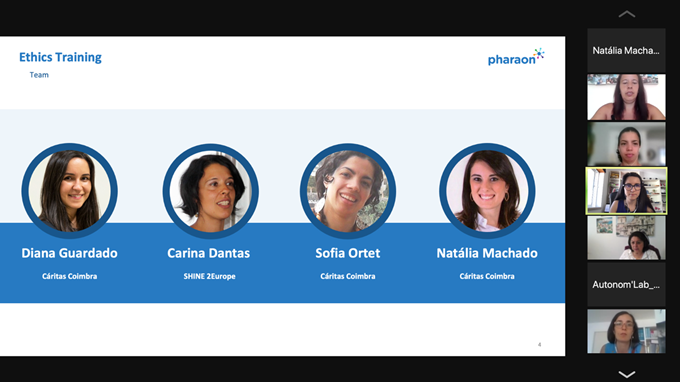 18 Jun

Pharaon partners conduct ethics training

Pharaon intends to develop integrated platforms that allow personalized and optimized health and social care and to maintain the dignity of older people and foster their independence and functional ability for as long as possible. Pharaon's integrated platforms will be validated in two stages: pre-validation and large-scale pilots (LSPs). These will take place in six different pilot sites: Murcia and Andalusia (Spain), Portugal, The Netherlands, Slovenia and Italy. Given its dimension and complexity, Pharaon has developed a methodology to actively discuss ethical and societal challenges within the project. This ethical approach goes beyond the compliance with European Union (EU) and Member States laws and regulations on fundamental rights, data protection, product liability directives and the usual ethical guidelines in projects. The methodology creates an iterative dialogue between the whole value chain of stakeholders.

Cáritas Coimbra, the coordinator of the task "Ethical and legal supervision and management" held an Ethics training for more than 50 Pharaon participants in cooperation with Pharaon's training coordinator and managers. The Ethics training was organised on May 28 and aimed at putting Pharaon's methodology into practice. It promoted an ethical dialogue among project partners that went over possible problems that may arise during the project course. Diana Guardado chaired the meeting in which Carina Dantas, Sofia Ortet and Natália Machado presented the methodology and the interactive tool kit to be used by the consortium, as well as the necessary steps to achieve legal compliance in all pilot countries. The need to protect vulnerable individuals and groups was also addressed.