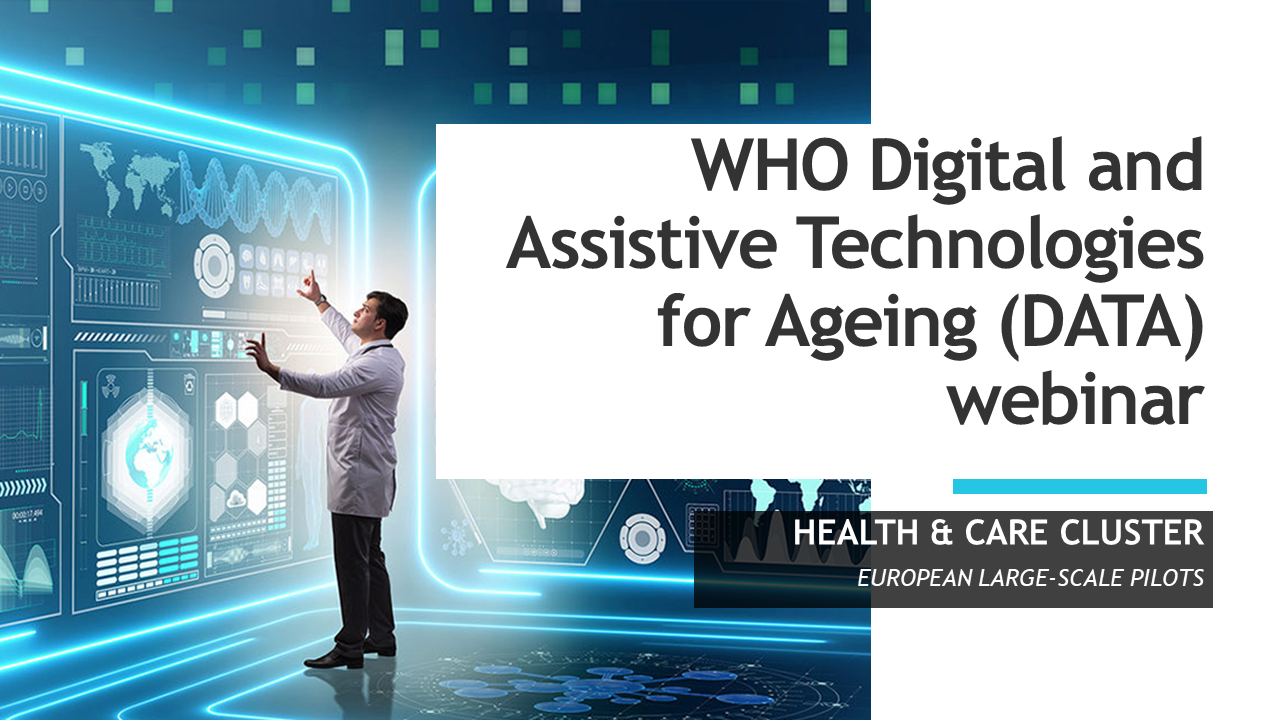 03 Jun

WHO Digital and Assistive Technologies for Ageing (DATA) webinar: insights from European large-scale projects on innovation for ageing well

Pharaon as partner of the EU's health & care cluster of large-scale pilots  jointly organized a webinar with the WHO's Digital and Assistive Technologies for Ageing (DATA) group on the 21 May 2021.

Sustaining the cohesive role played by technology nowadays, the World Health Organization (WHO) under its Global Cooperation on Assistive Technology or GATE initiative, launched Digital and Assistive Technologies for Ageing to encourage the global development, synthesis, and use of affordable, quality, digital and assistive technologies to cope with the challenges brought by ageing.

With the aim to explore the wealth of research carried out internationally on digital and assistive technologies for ageing, WHO DATA in collaboration with the EU's health & care cluster organized this first webinar on 21 May 2021. The online event brought together ten large-scale pilot projects funded by the European Commission to show how a range of digital and assistive technologies can be used together to enhance smart and healthy ageing in communities across diverse European contexts.

The welcome speech by Dr. Clive Ondari, Director of the Health Products Policy and Standards Department at WHO, shed light on the role of DATA with a particular focus on person-centred integrated assistive care for older people.

The projects financed by the European Commission via its Horizon2020 Programme for research and innovation highlighted some of the efforts of the Health & Care Cluster, a pool of large-scale pilot projects working on digitalized solutions for healthy ageing.

The presentations showcased selected approaches including co-designing digital solutions for and with older persons, and shared lessons learnt in organizing and implementing large-scale pilots, building on the constraints and opportunities of the COVID-19 pandemic. Pharaon Coordinator Filippo Cavallo, University of Florence, in particular highlighted the reaction of the Italian Pilot to Covid-19.

The webinar also stressed the importance of looking at the broad ecosystem: various contributions underlined the interdependencies between technological progress, economic development, and human values to ensure responsible research and innovation. Pharaon partner Pietro Dionisio, Medea SRL contributed with his presentation on the relevance of impact assessment for digital technologies.

In his closing remarks, Luc Nicolas, Open DEI Ambassador of the Health and Care Cluster, stressed the importance to break the silos and focus on the final beneficiaries to fully embrace the potential of digital and assistive technologies.

This first online event was attended by WHO staff and affiliates, in particular from the departments of Ageing and Life Course, Digital Health and Innovation, Health Systems and Service Provision, and Health Products, and Policy and Standards.

If you are interested in exchanging information, sharing knowledge on latest research and contribute to discussion around  enabling environment on digital and emerging assistive technologies for ageing we invite you to join the DATA community.