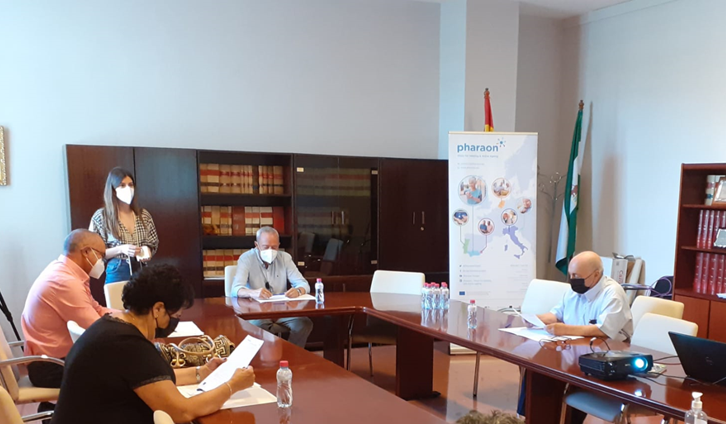 28 Jul

Action Research in the Andalusian Pilot with older people

Within the framework of the Pharaon project and from the Action Research methodology (AR), the Andalusian Pilot, coordinated by Ageing Social Lab, has carried out a focus group with older people at the headquarters of the Diputación de Jaén. Within the scenarios that have been set as challenges in the Andalusian Pilot – avoiding social isolation and preventing unwanted loneliness, through the improvement of digital skills, the creation of community and the development of cognitive stimulation activities – several participatory activities have been proposed to build strategies to improve the lives of older people, taking into account all the voices involved.

Action Research is a research approach that aims at the collectivisation of research processes. An important factor of this approach is the need to involve the different actors of the organisations (AR must be transversal to the different departments and profiles) to generate collaborative processes. Some frequent mistakes occur when people link organisations and associations, but the negotiation of this process is carried out only by managers and principal investigators, so the rest of the team (carers or older adults are excluded from the decision-making process) would not be as motivated with the AR processes.

From this approach, in the Andalusian Pilot we try to connect research activity with health and care organisations, making it possible for people in these fields to share and promote improvements from a user-centred approach; that is, taking into account the opinions and assessments of all parties involved to generate products and strategies that respond to the emerging needs of end-users.

In order to carry this out, and among the activities we planned, we started with a focus group with 8 older people, which took place last 21st June at the headquarters of the Diputación de Jaén. This activity lasted 3 hours, and during it we were reflecting together on the materials of the evaluation protocol of the Pilot. The results of this session have been very productive in order to carry out the Andalusian Pilot stage, as all the parties involved have been able to redefine the research materials taking into account the diverse characteristics of the target population.