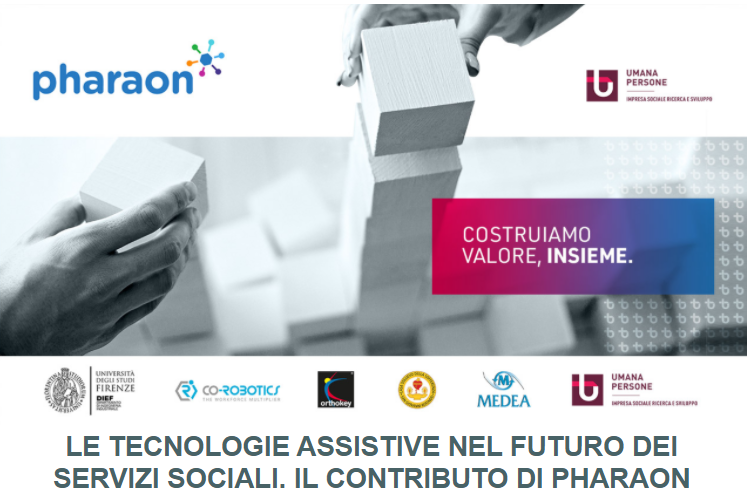 07 Apr

Fourth Italian pilot site newsletter / Quarta newsletter del sito pilota italiano

Newsletter in English (click here)

La newsletter in italiano (clicca qui)
Fourth Italian pilot site newsletter
ASSISTIVE TECHNOLOGIES IN THE FUTURE OF SOCIAL SERVICES. THE CONTRIBUTE OF PHARAON
If you pay attention to the Agenda of the Italian Prime Ministre Mr. Draghi and the debate about the Recovery Plan, once again you can realize how actual and real the ideas behind the Pharaon Project are. During his inaugural speech Mr. Draghi pointed out several times the importance of digitalization and IT Technologies as conditions of a "new renovation" which is increasingly needed by our Country. The composition of his Government of experts is a fact that doesn't need further comments. But what we want to underline is his statement: "From the experience gained in the last months we must open a discussion about our healthcare system ….. considering home like the first place for people to be cared is now possible thanks to Telemedicine and integrated home care services". During a meeting of the Italian Parliament Mr. Orlando, the Italian Minster of Justice, underlined the importance of transforming home care facilities for older adults into "assisted homes" where people can find tools, devices and services they need to stay safe. He also stated that: "Domotics, Telemedicine and remote monitoring can make services more efficient".
All above mentioned shows that the main goal is to provide the new generation of home care services and local services, that has to be adaptive and variable according to the different welfare systems. In the next months the Italian Pilot will proceed with the deployment of the pilot but it will also follow carefully when and how these guidelines are achieved. The first conference call of this year has been scheduled on the 16th of April and it will involve representatives of public social services workers from Tuscany and Apulia. The following one, still to be scheduled, will focus on how the service model with IT technologies impacts the traditional academic and training courses for healthcare professionals. There will also be the opportunity to discuss the Italian Recovery and Resilience Programme (PNRR) and the decisions that will be taken with the Budget Law 2021.
Stay tuned on our website and social channels! We look forward to seeing you!!
Read the full newsletter and all articles (both in English and Italian) here
Quarta newsletter del sito pilota italiano
LE TECNOLOGIE ASSISTIVE NEL FUTURO DEI SERVIZI SOCIALI. IL CONTRIBUTO DI PHARAON
Leggendo il programma del Governo Draghi e il dibattito sulla definizione operativa del Recovery plan, ancora una volta emerge l'attualità delle intuizioni che sono alla base del progetto Pharaon. Nell'intervento del Presidente del Consiglio fatto alle Camere in occasione del suo insediamento non c'è praticamente tema di policy in cui non si rimarchi la rilevanza della digitalizzazione e dell'hi tech come condizioni di quella "nuova ricostruzione" sempre più necessaria per il nostro paese. La composizione "tecnica" del suo governo non ha bisogno di ulteriori commenti. Al contempo, come preannunciato dallo stesso Draghi – "Sulla base dell'esperienza dei mesi scorsi dobbiamo aprire un confronto a tutto campo sulla riforma della nostra sanità… [arrivare ad avere] La casa come principale luogo di cura, è oggi possibile grazie alla telemedicina, con l'assistenza domiciliare integrata." Ministro Orlando, in sede di audizione parlamentare sulle linee programmatiche del suo ministero, ha poi sottolineato l'importanza di riconvertire le case di riposo per gli anziani in "abitazioni assistite" dotate delle attrezzature necessarie e dei servizi utili per la permanenza in sicurezza della persona anziana nel proprio territorio, evidenziando che "elementi di domotica, telemedicina e monitoraggio a distanza permetteranno di aumentare l'efficacia dell'intervento". La prospettiva, in sintesi, è quella di operare come piattaforma per i servizi domiciliari e di prossimità di nuova generazione, ben integrata nei modelli di gestione, le cui applicazioni possibili sono molto varie. Nei prossimi mesi, insieme alla prosecuzione della sperimentazione programmata, il network italiano di Pharaon seguirà con attenzione gli sviluppi di queste indicazioni. A partire dal prossimo 16 aprile ci sarà una conference call con i principali rappresentanti dei servizi sociali toscani e pugliesi. A seguire, dibatteremo sulle implicazioni curriculari dell'adozione di modelli di servizio hi tech nella formazione degli operatori sociosanitari. Senza poi dimenticare di monitorare gli sviluppi del Programma nazionale di ripresa e resilienza (PNRR) e le decisioni che verranno adottate in sede di legge di bilancio 2022.